Sunday, 27. June 2010
There is a number of things that I look for if I'm cooking something to entertain. I want something that's has quick prep time, cooks quickly and is delicious. For role playing, it's also a bonus if it doesn't make a huge mess: Enter the flat bread pizza.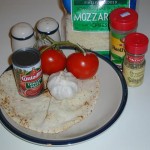 For this, you will need
2 Tomatoes (I chose vine ripened, in this case.)
1 6oz can of Tomato paste
1 Clove Garlic (Good at warding anything, vampires included for you forward thinkers.)
1 Package Pita bread
Shredded Mozzarella cheese
Fresh Basil
Oregano
Salt
Pepper
I am a fan of garden grown produce, or organics failing that. Fresher ingredients make a better meal that's friendlier to you.
Preheat your oven to 400 degrees.
Sauce
1 6oz can of Tomato paste
1 Clove Chopped Garlic
1/2 Tsp oregano
1/2 Tsp black pepper
Pinch of Salt
The tomato paste is a bit thick for the sauce. Thin it out until it just beings to run off the spoon. In this case, it took me about 1/3 cup of water, although I suppose you could thin with tomato sauce just as easily. Add 1/2tsp Oregano, 1/2tsp black pepper, 1 clove chopped or pressed garlic. Combine and mix liberally. Add salt as needed, being careful as tomato paste is pre salted. This should make nearly a half cup of sauce, which is enough for quite few pizzas.
Pizza
Pizza Sauce from Above
Thinly sliced Tomatoes
Mozzarella Cheese
Pita Bread
Fresh snipped Basil
Spread a thin later of pizza sauce on top of on the pitas you are cooking, cover lightly with mozzarella cheese, and place  your thinly sliced tomatoes as desired.  I did one per piece.
Place pitas in the oven for 5-7 minutes. If you want a softer crust, put them on a baking sheet of some sort. For a crispy crust, place them directly on the rack.
After the cheese is melted and slightly brown, remove and apply your sliced basil.  Cut the pizza in whatever fashion you prefer, and enjoy!