Monday, 30. August 2010
I took a trip out to the Michigan Renaissance Festivalagain this year as I always do. This was the weekend for the highland games, and it seems that they have been running several good promotions through both local radio stations and with a canned food drive. As such, the parking lots were as full as I've ever seen them, even running late into the day on Sunday. Entry fee was $20, but there are several exemptions for getting free tickets. The canned good drive was 1 free ticket per purchased one assuming you brought in at least 4 canned goods. It was hot and dusty as it hasn't rained lately in the area, but at least it wasn't humid. I think I have a little sunburn to show for it as well.
There was a time perhaps maybe 10 years ago when it seems like the festival really stagnated. Crowds were limited, the number of acts there were dropping off and the place was really becoming somewhat run down. Fortunately over the last 5 years or so they've really been pushing a good advertising and sponsorship campaign. There is always new works and development going on, so the site has really become enjoyable to just walk around even if you're not going to buy anything. Within the last 2 years the new expansion at the end of it has really gotten somewhat finished up, and their large open field now for various events such as archery of the highland games that were going on this weekend.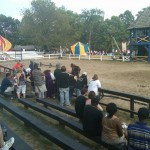 There was a falconry demonstration this year which I found really interesting and unless I've consistently missed it hasn't been at the faire for quite some time or ever for that matter.  Unfortunately the bird wouldn't hold still for a good picture and my cell phone camera wasn't the best in the world.  It's still neat to see hawks up that close though, even if watching them chow on a piece of meat can be a little disturbing.  I would've thought that a hobby like this would've been killed of by creeping modernism, but from what I've found so far it's apparently far more popular that I would've imagined. (It's certainly easy to find information on than say, pen and pencil role playing.)  It's great to see living history like that preserved in such a fashion for future generations.  I'm going to have to see about finding another local demo sometime and perhaps doing an interview as well.
And as mentioned, the highland games were going on.  I managed to catch a bit of the caber tossing, and weight over the bar at the end.. something that I've never seen before.  Apparently it involves tossing a 56lb weight up into the air and as it's name implies over a bar, the field record at this place was 16'2″ in height.  In addition to not being able to throw the weight, even if I did I'd probably manage to land it on myself, dying in the process.  I'd say that the games are really something that needs to be televised and publicised more than they are, just because it's neat to watch the feats of strength.
All and all, the trip was great fun.  I'd especially recommend it to anyone who hasn't gone before or anyone who hasn't been to the Faire in some time now.  Dressing up isn't required.. good thing because this it was pretty hot out.  Getting a roasted turkey leg is almost a requirement, and the apple dumplings are quite good as well.